Technical SEO for eCommerce – a broad field covering everything from JavaScript indexing, sitemaps, keyword research, meta tags, links, and more. It helps improve the technical aspects of websites to increase page rankings in a search engine.
Technical SEO makes a website load faster and helps in crawling for search engines to improve technical optimization. In their latest Lightning Talks video, Google shared some of the best practices that eCommerce websites can follow for Google SEO – product data. But you may be thinking – why is Product data so important?
When Google has accurate product data that is updated timely, it applies unique formatting options to help shoppers decide. The search engine displays stock levels, prices, and ratings for different products to increase traffic from eCommerce sites.
Google also displays the product data or information in Google Maps, Google Shopping, and Google Images – to help give websites a larger market. Developer Advocate for Google, Alan Kent, talks about the various ways product data can be added to Google by website owners.
Let's look at why these steps are required to add product data to Google:
One central question that may pop into your mind while supplying all the product details to Google is – why can't Google take this information themselves? The search engine autonomously crawls and indexes other content; why can't it do the same with product data?
Google can crawl and index other content, but there are several pieces that Google cannot pull. This information needs to be added by the site through structured data markup or product feed. When Google adds information to display, it needs to have accurate data.
This accuracy can only be done when they have verified information. In this situation, it is the responsibility of the eCommerce website owner to identify what is accurate. Some examples of data include:
Original vs. discounted prices
Actual products vs. related products
Product price vs. shipping and overhead costs
So, how can you supply this information to Google?
1) Providing Product Details with Structured Data:
Using structured data is one way to make sure that Google understands the product details clearly. The easiest way is to embed it as JSON-LD encoded content.
2) Adding Product Details through Google Merchant Center:
Another option to supply Google with accurate product data is through the Merchant Center.You can add information to the Google Merchant Center by:
Adding structured data which Google can discover through crawling
Feed product data manually
Using API to update products individually
3) Using SSL or Secure Sockets Layer:
SSL, a security technology, helps create an encrypted link between a browser and web server. You can easily spot a site that uses SSL; the website URL will start with 'HTTPS://' rather than 'HTTP://.'In 2014, Google announced that HTTPS websites would be given preference over non-secure ones.
So, knowing this, it makes sense to add security to your website. This is done by installing SSL certificates on your website. Most website builders include SSL certificates by default.
4) Adding a mobile-friendly site:
A 'responsive' website helps adjust itself to fit any device and make it more user-friendly.Google is transparent about its policies – having a responsive site helps add significant ranking in its algorithms.
With Google introducing its 'mobile-first approach to indexing content, adding a responsive site is more important than before. You need to make sure that your website is entirely responsive – add the best format for all users – mobile, tablet, and desktop.
Continue reading below
Looking for the Right@ marketing advice for your Shopify Store?
Get started with a free 20 min consultation with one of our Shopify Experts
Schedule Now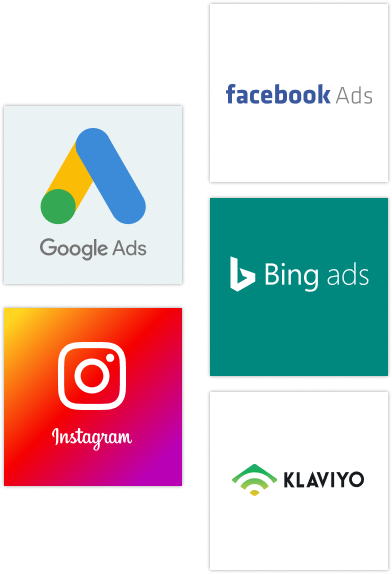 5) Increase Site Speed:
Search engines prefer sites that load faster. Page speed is an important ranking signal. There are multiple ways you can speed up your website:
a) Using a DNS or domain name system provider
b) Minimize 'HTTP requests' by minimizing the use of scripts and plugins
c) Using one CSS stylesheet instead of multiple ones or inline CSS
d) Compress web pages using a tool called GZIP
e) Minifying site code to rid unnecessary spaces or indentations in HTML, Javascript, and CSS
6) Fixing duplicate content issues:
Duplicate content is confusing for both search engines and users. It is also an underhanded way to manipulate traffic or search rankings.Because of this, search engines like Google advise eCommerce business owners to fix duplicate content issues.
How can you improve duplicate content?
a) Prevent the CMS you use from publishing multiple versions of page
b) Using canonical link elements to let search engines understand where the main version of your content is
7) Creating an XML sitemap:
When adding an XML sitemap, make sure that it contains all the information required for search engines to crawl through it. An XML sitemap is more like a roadmap for your page – it provides the search engine with each page information, including how frequently the page has been uploaded, when it was last modified, and what priority it has for your website.
8) Register your website with Google Search Console:
This free Google tool offers website owners options to index their website. Once your website is ready to launch, by submitting your XML sitemap to the Google Search Console, you allow them to crawl your site and display results.
You can monitor the performance of your website from the search engine perspective, and also:
test mobile usability of your website
access search analytics
view backlinking
disavow spam links
9) Add Breadcrumb Navigation:
We all know that Breadcrumb navigation is highly SEO-friendly. That is because breadcrumbs automatically add internal links to categories or subcategories.This helps solidify your website architecture.
Not to mention that Google has also adopted the breadcrumb navigation style in their SERPs.So, adding breadcrumb navigation is a great way to add to your technical SEO growth.
10) Adding Deep page internal linking:
We all know how difficult it is to add links to a deep page.What is a deep page?A deep page is a page in your site that takes more than four clicks from your homepage to be accessible.
So, by using a flat architecture, you can stop issues like indexing to these deep pages. With a flat architectural structure, your 'deepest darkest page' will be only 3-4 clicks away from your main homepage.
But, if it still does not work, adding internal links to your pages can help remove this problem. Pages that are 1 click away from your homepage have the power to pull your deep pages out of the darkness and into the clickable light.
Wrapping Up
Technical SEO for eCommerce is still essential as it helps search engines crawl through the data to make it visible to customers. Without the proper structure or the correct data, your website may not be user-friendly.
And for an eCommerce store owner, that is the worst mistake you can make. After all, you want people to visit your site and buy your products.
So, start building your website into a Google SEO-friendly, customer-pleasing site to start getting the sales numbers up.