We all are looking forward to 2021. But first, we need to look back at 2020 and accept the new changes that have taken place. We need to accept that social distancing is the new norm, and that eCommerce marketing has taken a jump in the business world to overtake any other form of marketing.
But, according to the latest HubSpot Research study, 40% of brands out there will miss their revenue targets in Q1 of 2021. The leading cause of this is inadequate knowledge in the field of eCommerce marketing.
So, take a sip of your coffee, and find out 10 ways you can help drive more eCommerce Sales to your Brand in 2021.
10 Ways To Drive More eCommerce Sales in 2021
1) Increase Trust In Your Brand:
When planning your eCommerce store, you need to plan a strategy to build trust in your customers about you and your brand.
So, what strategies can you use when building trust in your customers:
a) Improving product quality – See what your product description says, check the quality of your products – show your customers the value your products will give them. Let your product quality do the talking for your brand.
b) Keep customers engaged on your social media pages. Shoot live videos, offer discounts, conduct webinars to give customers a wonderful experience when they shop from your web store.
c) Add user-generated content on your website or social media pages. These can be in the form of testimonials, tweets, images, videos, or reviews to let users show the experience they had by using your products.
d) Choose a reliable host when hosting your eCommerce website. An unsecured page will make customers visiting your site skittish, especially when they try to buy a product.
Continue reading below
Want to Customize Your Shopify Store?
Get started with a free 20 min consultation with one of our Shopify Experts
Schedule Now
2) Set The Right Prices:
Once your customers trust you and your brand, it is now time to quote the right prices so people can buy from your store. But first, you need to:
1) Study what your competitors are doing. Start checking for similar products that have unique selling points and see how they are priced.
2) Check for wholesalers and raw materials sellers other than the ones you use. Check the market to see who offers the best prices for long-term effect.
3) Provide customers with a 'Free Shipping' level. If people shop over a certain amount (let's say $200), then you can offer them free shipping.
3) Utilizing Your USP To Increase Sales:
When thinking about your eCommerce business ideas, you need to look at your Unique Selling Proposition or USP of your products. Take a look at your store and ask the following questions:
What makes your store stand out from your competitors?
How is your product unique?
What is the quality level of your product?
What unique need does the product fulfill that customers want?
What after service features do you provide your customers with once a sale is made?
With these questions, you can now find out your brands' and individual products USP. A clear USP is a useful tool that can shape your brand or products apart from your competition. But, knowing what is your USP is and communicating it are two separate things. You need to let your customers know what is unique about your products. Show them the added value your products offer them.
Let's see some of the best examples of Effective USPs:
Death Wish Coffee: While some coffee shops claim to have the 'richest' or 'smoothest' coffee, the Death Wish Coffee brand chose to market their products with the USP, 'the world's strongest coffee.' And they stand by it too. If a customer claims that the coffee wasn't the strongest one they have had, the company offers a full refund.
TOMS Shoes: 'With every pair you purchase, TOMS will give a pair of new shoes to a child in need. One for One.'
Dropbox: 'Dropbox keeps your files safe, synced, and easy to share. Bring your photos, docs, and videos anywhere and never lose a file again.'
FedEx: 'When it absolutely, positively has to be there overnight.'
4) Optimizing and Site Testing A Website:
According to a 2000 study by Microsoft, the average person's attention span was 12 seconds. Recent research from the Technical University of Denmark shows that the attention span has further dropped to 8 seconds.
So, 8 seconds is all the time you have to grab a customers' attention and make a sale. Now, in those 8 seconds, if it takes 5 seconds to load your site, do you think the customer will stay on your webpage?
You need to optimize your website to make it more user friendly. Also, keep a check on your site speed using Google's PageSpeed Insights.
5) Offering Exceptional Customer Support:
As a powerful eCommerce marketing strategy 2021, you need to look into your customer support. Customers are more likely to buy from brands that have an efficient customer support team. In fact, according to a study by Microsoft, 54% of all global customers state that they have higher customer expectations than they did just 1 year ago.
So, how can you offer exceptional customer support:
a) Adding a LiveChat option to your eCommerce store. If you are a Shopify merchant, you can use the multiple apps available to create the best LiveChat option for your store.
b) Use Chatbots to answer most of the questions people ask. This will help reduce the number of manual complaints while customers will get immediate replies to their queries.
c) Sending personalized email messages to customers and reply to them immediately when they have a complaint.
d) Using 24/7 phone support to help increase trust and loyalty for your eCommerce store.
6) Reduce Shipping Time and Costs:
As an eCommerce store owner, shipping time and cost is very important for a store rating. Let us look at some statistics to support the idea:

In eCommerce stores, shipping time and costs are essential, and you can reduce the number of late deliveries by:
a) Offer free shipping – Provide your customers with the option to choose a type of shipping they want – if they wish for faster shipping, they can pay for more. Or they can opt for free shipping.
b) You can use third-party delivery options to handle your brand delivery.
7) Try Not To Sell Products, But Solve Problems:
Sometimes when you try to get customers to buy products, your ideas can be a bit pitchy. Instead of giving product pitches during emails and other communications, you need to try and solve their problems.
Engage with customers, understand what they want, or the questions they want to solve and show them how your products will help them solve the issue. Instead of just throwing your products and their features into their faces, give them a chance to understand just how your products will help them.
Continue reading below
Need ongoing support for your Shopify store?
Discuss your requirement for a free 20 min consultation session with one of our account managers
Schedule Now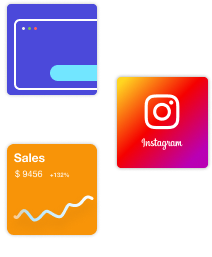 8) Using Data Analysis To Target Audience:
Before creating an eCommerce marketing strategy for 2021, you need to understand your customers. Study up on your target audience, find out who they are, what they buy, and check how your products are doing compared to others.
This is where data analysis comes in handy. It can help you answer these questions and can help uplift your eCommerce strategies. With the data analysis insights, you can create the right target audience for your products or utilize the right keywords to make sure the right audience sees your products.
Another useful data use is building a lookalike audience based on your current customers. You can also use the demographic data you find from analysis to creating multiple marketing campaigns across various channels.
9) Invest In Disruptive Technologies:
According to an article in Investopedia, 'Disruptive technology is an innovation that significantly alters the way consumers, industries, or businesses operate.'
With Covid-19 and social distancing, 2020 was significant for eCommerce marketing. New and improved methods of engaging with customers cropped up, especially with AR/VR blowing up. These Disruptive technologies emerge from time to time, and businesses that jump onto the bandwagon see more significant gains than latecomers. Some of the most prominent examples are TikTok and Instagram – eCommerce businesses are now focusing their online marketing strategies to make sure they include these two new platforms more than Facebook or Twitter.
So, if you have an opportunity to connect better with your audience using Disruptive technology, then take it. While it may not change your market entirely, it will give you a new way to reap more significant rewards.
10) Implement user-generated content:
Finally, when creating an eCommerce strategy, we know the importance of User-generated content. It is a powerful tool that eCommerce brands can use to build trust with potential customers and break stereotypical thoughts. Customers prefer UGC reviews or testimonials rather than the brands' self-professed benefits.
One of the best examples of UGC content is by the brand Patagonia. The brand encouraged customers to share their experiences with the brand using the #VidePatagonia.
Another great example is the Audi #WantAnR8 campaign, one of the longest-running hashtag campaigns on Twitter. Started in 2011, the campaign is still going strong and has been tweeted over 75000 times.
Wrapping Up
When planning to jump into the 2021 eCommerce marketing strategies, you need to make sure that your website is compatible with the new changes. Ensure that you keep editing and upgrading your website to make sure it is tuned to the new year.
Look forward, leave all the negativity of 2020 behind, and start a new.